So lately I've been thinking (and the thought won't leave my mind) -- I rarely wear bracelets anymore (except for my awesome
geisha charm bracelet
that I traded to a customer for some item descriptions), because I spend my day writing and typing and digging in the dirt and it's a very rare bracelet that doesn't impede my work. However, I love the look of a big, rattly, gorgeous bracelet (not a cuff, a bracelet-bracelet).
I also have a whole lot of single-strand bracelets that I've made to sell from a bowl at shows ... and have never sold a single one in person.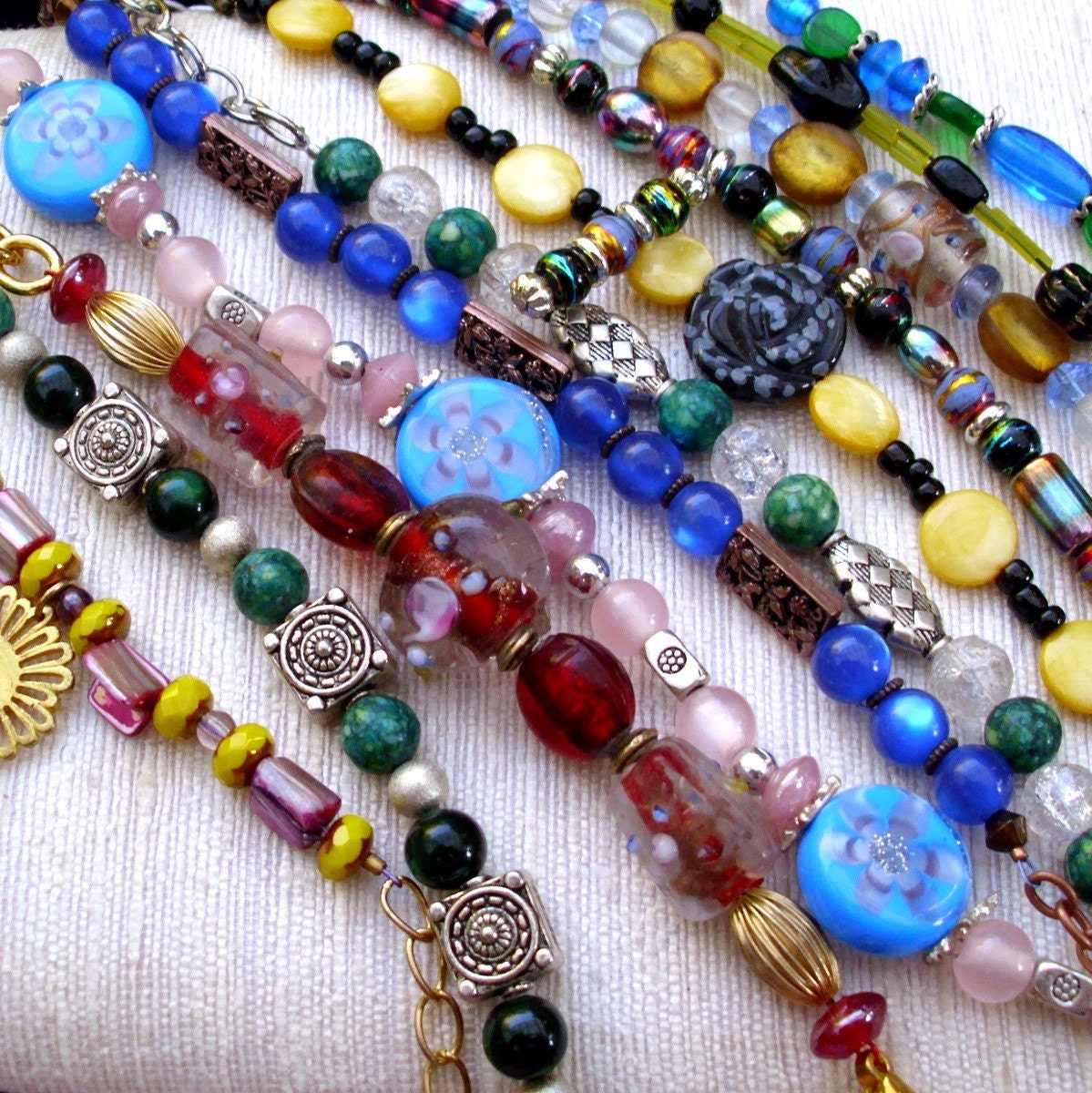 Lots of 5 at a great low price available
here
.
Since those are adjustable bracelets made with nice beads, here's my plan: I'll add one to three strands to the original (parallel, wrapped, or braided), then secure a cluster of unbreakable/break-resistant charms, buttons, and beads to the lobster clasp so that both sides (strands and clasp) can serve as a focal element.
Some methods I'd like to try:
Braiding some of my massive overstock of vintage pendant chain to make up a strand (this may be too stiff; we'll see).
Strips of cloth/lace/ribbon secured to a base cord with a wrapping of fine wire, as shown in winter's Belle Armoire Jewelry.
Leather cord -- which I've never done a thing with, ever, and feel a vague responsibility to try.
A wirework element making up one strand.
Interactive elements, like sliding beads and similar worry stones.
Handmade wire chain (another Belle Armoire project I've been itching to try).
A chain made of two-hole buttons (which shouldn't be too fragile if it's not especially load-bearing).